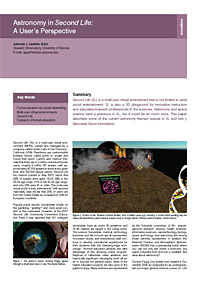 Download this article
- PDF (648 KB)




Astronomy in Second Life (page 32-34)
Adrienne J. Gauthier

Summary
Second Life (SL) is a multi-user virtual environment that is not limited to adult social entertainment. SL is also a 3D playground for innovative instructors and education/outreach professionals in the sciences. Astronomy and space science have a presence in SL, but it could be so much more. This paper describes some of the current astronomy themed spaces in SL and briefly discusses future innovations.

Online references & Second Life URLS (SLURLS):
- Second Life
- Online Ref.1
- SLURL 1
- SLURL 2
- SLURL 3
- SLURL 4
- SLURL 5
- SLURL 6
- SLURL 7
- SLURL 8
- SLURL 9
- SLURL 10
- SLURL 11
- SLURL 12
- Online Ref. 2
- SLURL 13
- Online Ref. 3
- Online Ref. 4
- Online Ref. 5


---
Comments about this article
Adrienne Gauthier
11 Nov 2007, 11:46
I've received some questions about my article and how to reach the places in SL that are mentioned. Here is a quick tutorial:

METHOD: SLURLS

Use the SLURLS listed in the article or on this page: https://www.capjournal.org/issues/01/01_32.php

1. Have SL (Second Life) already open and you are logged in.
2. In a web browser have the SLURL page (above from CAP J) open or type in the SLURL.
3. Your browser will resolve the address on the SLURL homepage and activate a widget that then asks you if you want to Teleport to that location. In SL - that will activate the Map feature and you can teleport.

OPTION 2: Contact Ourania Fizgig in-world for a Notecard of Landmarks

1. In SL - Search for my avatar: Ourania Fizgig.
2. *do not* try to add me a as a Friend. Unless I personally know someone, I do not add them as Friends (that's an SL custom).
3. Send me a Communication message as an IM (Instant Message) - ask for the "Astronomy in Second Life Notecard of Landmarks".
4. You should receive it in a day or two of sending your request.