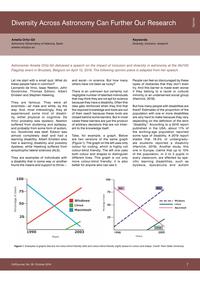 Download this article
- PDF (265 KB)




Diversity Across Astronomy Can Further Our Research (page 07)
Ortiz-Gil, A.
Summary
Astronomer Amelia Ortiz-Gil delivered a speech on the impact of inclusion and diversity in astronomy at the IAU100 Flagship event in Brussels, Belgium on April 12, 2019. The following opinion piece is adapted from her speech.