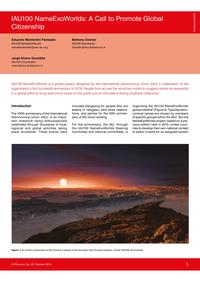 Download this article
- PDF (183 KB)




IAU100 NameExoWorlds: A Call to Promote Global Citizenship (page 05)
Penteado, E. M.; Rivero-Gonzalez, J.; Downer, B.
Summary
IAU100 NameExoWorlds is a global project designed by the International Astronomical Union (IAU) in celebration of the organisation's first hundredth anniversary in 2019. People from all over the world are invited to suggest names for exoworlds in a global effort to bring astronomy closer to the public and to stimulate a feeling of global citizenship.