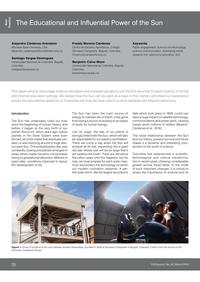 Download this article
- PDF (375 KB)




The Educational and Influential Power of the Sun (page 28)
Cárdenas, A.; Vargas, S.; Moreno, F.; Calvo, B.
Summary
This paper aims to encourage science educators and outreach groups to use the Sun as a tool to teach science in formal and informal education settings. We explain how the Sun can be used as a topic in this manner and share our experience across the educational spectrum in Colombia and how we have used it to drive development beyond astronomy.