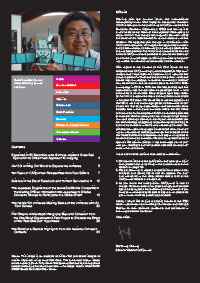 Download this article
- PDF (497 KB)




Editorial (page 03)
Sze-leung Cheung
Starting with the current issue, the International Astronomical Union (IAU) Office for Astronomy Outreach (OAO) is taking over the publishing of CAPjournal from the European Southern Observatory (ESO) and moving it to a new home at the National Astronomical Observatory of Japan (NAOJ). This change was originally planned in 2012 but could not be implemented for various reasons until this moment. We hope that this change, in combination with OAO's other activities, will support the astronomy outreach and communication community by providing a platform for sharing best practice. The NAOJ is very proud to be the new home of CAPjournal and promises to provide the best support for the journal's paper publishing services to the growing number of international astronomy communicators.
With regard to the content of this 23rd issue, we are delighted that CAPjournal has just celebrated its 10th anniversary, and I have taken this opportunity to interview two previous editors-in-chief and share some of their views and stories with our readers. In another anniversary celebration, we will look in this issue at the plans for the IAU's 100th anniversary in 2019. In 1919, the IAU was formed, and this organisation has brought about a paradigm shift in how astronomy is conducted. Many actions have been taken by the IAU to support the many exciting discoveries made in the past 100 years. We would like to use the occasion of IAU100 to not only encourage global communities to celebrate the IAU as an organisation, and astronomy more broadly. Also in this issue, our sister office, the IAU Of ce of Astronomy for Development (OAD), conducted a pilot test to evaluate whether astronomy can change social behaviour, and although definitive results are not available yet, the methodology of applying experimental psychology to astronomy studies is in itself a very interesting concept. You will also learn about language issues faced when conducting an international campaign through the example of the IAU NameExoWorlds competition and about using food to conduct astronomy outreach. We also bring back some of features like opinion pieces — we encourage you to provide your feedback and will publish selected correspondence in the next issue.
I have a few call for actions that need your attention:
We want to improve the publication and hear your opinions; please help us by lling in the questionnaire online (details on page 12).
We are planning to release a special issue about solar eclipses and would like to call for papers. For any- one interested in this idea, please take a look at the CAPjournal website or contact us.
As you know, the subscription CAPjournal is free of charge. However, production costs are high, and we seek sponsors to support the publishing of this journal. If you think your institute may be able to sponsor us, please do get in touch. It will be greatly appreciated!
Lastly, I would like to give a special thanks to the ESO team, in particular, Lars Lindberg Christensen and Georgia Bladon, for their patience, guidance, and assistance in ensuring a smooth handover.
Clear skies,
Sze-leung Cheung
Editor-in-Chief of CAPjournal