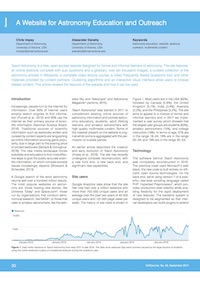 Download this article
- PDF (322 KB)




A Website for Astronomy Education and Outreach (page 30)
Chris Impey, Alexander Danehy,
Keywords
Astronomy education, website, textbook, outreach, multimedia content
Summary
Teach Astronomy is a free, open access website designed for formal and informal learners of astronomy. The site features: an online textbook complete with quiz questions and a glossary; over ten thousand images; a curated collection of the astronomy articles in Wikipedia; a complete video lecture course; a video Frequently Asked Questions tool; and other materials provided by content partners. Clustering algorithms and an interactive visual interface allow users to browse related content. This article reviews the features of the website and how it can be used.