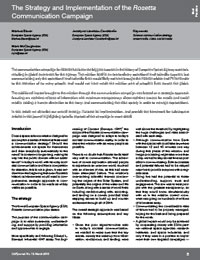 Download this article
- PDF (452 KB)




The Strategy and Implementation of the Rosetta Communication Campaign (page 05)
Markus Bauer, Mark McCaughrean, Jocelyne Landeau-Constantin
Key Words
Science communication strategy, cross-media, video, social media.
Summary
The communication campaign for Rosetta has been the biggest success in the history of European Space Agency outreach, resulting in global awareness for the agency. The mission itself is an extraordinary operational and scientific success, but communicating only the operational and scientific firsts would likely not have brought the Rosetta orbiter and Philae lander to the attention of so many people, and would not have made the mission part of people's lives across the globe.
The additional impact brought to the mission through the communication campaign was based on a strategic approach focusing on: real-time release of information with maximum transparency; direct real-time access for media and social media; adding a human dimension to the story; and communicating the risks openly in order to manage expectations.
In this article we describe our overall strategy, illustrate its implementation, and provide the framework for subsequent articles in this journal highlighting specific aspects of the campaign in more detail.