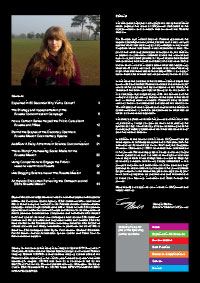 Download this article
- PDF (167 KB)




Editorial (page 03)
Georgia Bladon
It is with great pride that I, alongside the rest of the editorial team, present this issue of CAPjournal, dedicated to the communication and outreach that surround the Rosetta mission.
For Europe, and indeed beyond, Rosetta represents the largest space ight event of the decade and it was not luck that the world was watching as it all unfolded. In the United Kingdom, where I am based, it was impossible to miss. You could nd news and messages of support for the mission in papers, on television, swathed across the internet and even on a dedicated postmark. I found myself bombarded with questions from friends and family who had never before shown much interest in space about what was happening, what would come next and, perhaps most heart-warming of all, what else there was to know about ESA — an organi- sation that some of them had not previously known to exist.
In this issue the creators of the communications storm that surrounded and stoked Rosetta's success share their expe- rience of the process and lay out before us the Good, the Great and the downright Ugly of baring all for the public. It is a campaign that exposed the risks, the failures and the unknowns of a pioneering mission to the eyes of the world and, in making itself vulnerable, Rosetta's story became not only known, but embraced and adored the world over. You will also nd here critiques and reviews of the mission's communications — outsider perspectives on what was, at times, a controversial approach.
It is always a pleasure to edit this journal and this issue was no exception. I hope you gain as much from reading the articles as I did: I think we can all learn something from the diverse and widely collaborative work that was done to sup- port this historic mission.
In addition to the content of this issue, CAPjournal has yet more reason to celebrate as, at the end of last year, both the International Astronomical Union (IAU) and the European Southern Observatory (ESO) con rmed their commitment to the journal. We have many more issues, and a very bright future, ahead of us and it is time to think about how that future might look. It has always been our aim to keep the astronomy outreach community deeply embedded in this journal's evolution and production so if you have any sug- gestions for improvements or changes to the journal please do get in touch. In the meantime, we encourage you to con- tinue coming together as practitioners and theoreticians to share your learning, innovation and ideas through the journal.
Many thanks once again for your interest in CAPjournal, and happy reading,
Georgia Bladon
Editor-in-Chief