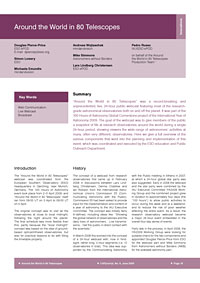 Download this article
- PDF (768 KB)




Around the World in 80 Telescopes (pages 18-25)
Douglas Pierce-Price, Simon Lowery, et. al.
Summary
"Around the World in 80 Telescopes" was a record-breaking and unprecedented, live, 24-hour public webcast featuring most of the research-grade astronomical observatories both on and off the planet. It was part of the 100 Hours of Astronomy Global Cornerstone project of the International Year of Astronomy 2009. The goal of the webcast was to give members of the public a snapshot of life at research observatories around the world during a single 24-hour period, showing viewers the wide range of astronomers' activities at many, often very different, observatories. Here we give a full overview of the various components that went into the planning and implementation of this event, which was coordinated and executed by the ESO education and Public Outreach Department.