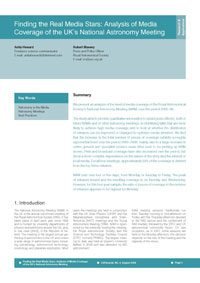 Download this article
- PDF (531 KB)




Finding the Real Media Stars: Analysis of Media Coverage of the UK's National Astronomy Meeting (page 5)
Anita Heward, Robert Massey

Summary
We present an analysis of the level of media coverage of the Royal Astronomical Society's National Astronomy Meeting (NAM) over the period 2005–08.

The study aims to provide quantitative information to assist press officers, both of future NAMs and of other astronomy meetings, in identifying talks that are most likely to achieve high media coverage and to look at whether the distribution of releases can be improved or changed to optimise media attention. We find that the increase in the total number of pieces of coverage exhibits a roughly exponential trend over the period 2005–2008, mainly due to a large increase in online general and specialist science news sites seen to be picking up NAM stories. Print and broadcast coverage have also increased over the period, but show a more complex dependence on the nature of the story and the interest of local media. For all four meetings, approximately 50% of the coverage is derived from the top three releases.

NAM runs over four or five days, from Monday or Tuesday to Friday. The peak of releases issued and the resulting coverage is on Tuesday and Wednesday. However, for this four-year sample, the ratio of pieces of coverage to the number of releases appears to be highest for Monday.