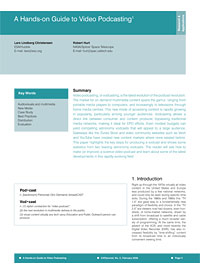 Download this article
- PDF (3.63 MB)




A Hands-on Guide to Video Podcasting (page 5-16)
Lars Lindberg Christensen, Robert Hurt


Summary
Video podcasting, or vodcasting, is the latest evolution of the podcast revolution. The market for on demand multimedia content spans the gamut, ranging from portable media players to computers, and increasingly to televisions through home media centres. This new mode of accessing content is rapidly growing in popularity, particularly among younger audiences. Vodcasting allows a direct link between consumer and content producer, bypassing traditional media networks, making it ideal for EPO efforts. Even modest budgets can yield compelling astronomy vodcasts that will appeal to a large audience. Gateways like the iTunes Store and video community websites such as Veoh and YouTube have created new content markets where none existed before. This paper highlights the key steps for producing a vodcast and shows some statistics from two leading astronomy vodcasts. The reader will see how to make (or improve) a science video podcast and learn about some of the latest developments in this rapidly-evolving field.