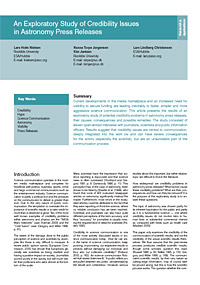 Download this article
- PDF (223 KB)




The Credibility of Science Communication (page 5-9)
Lars Holm Nielsen, Nanna Torpe Jørgensen, Kim Jantzen, Lars Lindberg Christensen

Summary
Current developments in the media marketplace and an increased need for visibility to secure funding are leading inevitably to faster, simpler and more aggressive science communication. This article presents the results of an exploratory study of potential credibility problems in astronomy press releases, their causes, consequences and possible remedies. The study consisted of eleven open-ended interviews with journalists, scientists and public information officers. Results suggest that credibility issues are central to communication, deeply integrated into the workflow and can have severe consequences for the actors (especially the scientist), but are an unavoidable part of the communication process.


Online references:
- A webcast of the panel discussion discussed in this article can be found at this address.
- A Hubble image of Mars referred to in this article.